Jonathan Cainer 1957 - 2016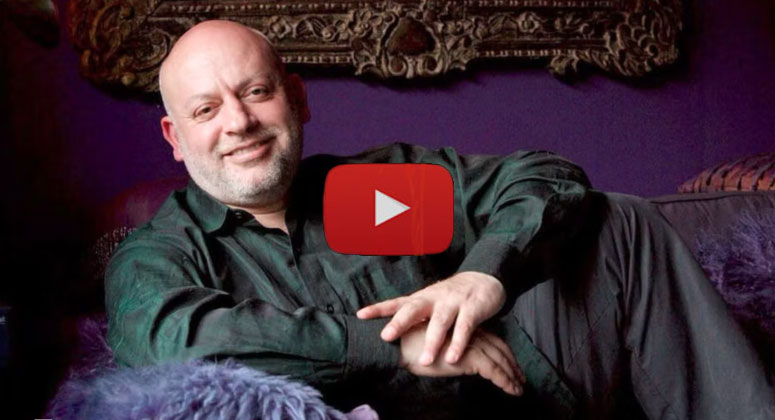 Astrologer Extraordinaire
For more than 30 years Jonathan was probably the leading and most popular astrologer in the world. Until his death five years ago, his columns appeared daily in national newspapers in the UK, Australia, Canada, South Africa and were translated into many languages, notably Spanish and Japanese.

His quirky, inimitable phrasing, his seemingly endless supply of appropriate metaphors, his empathy and understanding of the human condition were what made him not just the people's astrologer but also the astrologers' astrologer.

His predictions were 'spookily accurate' and his insights were sought after on TV and Radio as well as in the press. His website cainer.com was one of the very first to appear online and continues to be amongst the web's most popular.

After his death in 2016 his legacy was passed on to his nephew Oscar, who Jonathan personally trained. Today cainer.com presents a mixture of new forecasts from Oscar plus audio, video and written forecasts drawn from the extensive astrological library that Jonathan left behind.

Jonathan's work is still just as relevant today as it has always been. He remains much loved. He really is still with us as the guiding influence of the family, as Oscar and Jonathan's brother Daniel, continue in his tradition.

After an early career as a jobbing musician, he wandered into the world of astrology almost by accident. A friend of a friend offered to read his birth chart and Jonathan was amazed by how accurately it summed him up. He then decided to experiment for himself with the complex ancient art. What began as a brief investigation became a dedicated, ongoing study.

'Pop astrology' was the last thing on his mind at this point. He was interested only in drawing up full horoscopes, based on people's exact date, time and place of birth. Indeed, when first approached, back in 1984 to write a Sun sign forecast column, he turned down the offer flat, opting instead to write more academic books designed to help students learn the language of planetary symbolism. He also co-designed one of the first modern astrological computer programs.

In 1986, when Eddie Shah launched the new Today newspaper, Jonathan was approached once more to write a daily sun sign column. Assured that he would also have the chance to introduce his readers to the deeper side of his subject, this time he took the post. His column proved a great success. He left Today in January 1992 and joined the Daily Mail in December of the same year. In January 2000, his powers of precognition inspired him to take his column from the Daily Mail to the Daily Express, and then on 19 March 2001 to The Daily Mirror. He returned to the Daily Mail in June 2004 until 2016.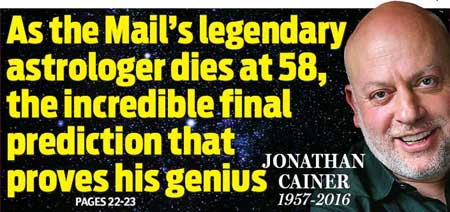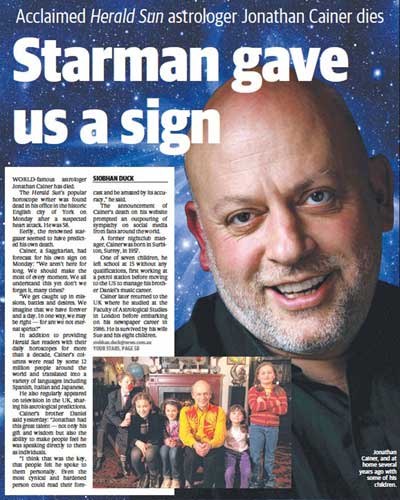 ---